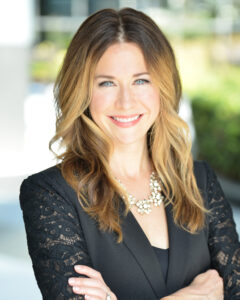 ANNA KILINSKI BRENT: 
CO-OWNER
Anna K in three words: Determined. Resourceful. Experienced.
Regional Operating Partner, Keller Williams Southeast Region
Realtor®, CEO Anna K Intown
Selling 200+ Homes with over $140M in Sales as the #1 KW Team in Georgia in 2023

Anna Kilinski Brent (a.k.a. Anna K) loves seeing people break through their perceived limitations. She also loves a good challenge, a fierce competition and a chance wield her people-elevating, problem-solving and vision-casting skills. A fearless leader, barsetter, visionary and coach, Anna K is the brains (and heart) behind The Anna K Intown Team and has recently and most notably has taken on the role of Regional Operating Partner of the "award-winning" Southeast Region for Keller Williams. the largest and pack leader in the KW franchise. Smart move on KW's part, because Anna K doesn't do anything halfway.

A New Orleans native who was practically born into real estate, she swore she'd never join the family's favorite industry, but that quickly changed after she bought her first house at 25 (a duplex for that matter) and never looked back.

In 2018, Anna's unrivaled Atlanta reputation and no-nonsense, all-in approach to serving her clients earned her the realtor-host spot on Bravo® TV's "Buying It Blind", in which she bought new homes on her clients' behalf (and with their savings)—but without them actually seeing the properties. She's earned the Millionaire Real Estate Agent accolade year over year since 2014, and Anna K Intown is consistently ranked a Top 10 Team by the Atlanta Board of Realtors, and her team #1 in Georgia for KW in 2022 serving over 200 clients and $140M+ in residential sales annually. If you're in the KW world, you'll appreciate knowing she runs a TRUE MREA & "profitable" model – and is passionate about others learning to do the same.
When she's not changing the face of the real estate landscape in the southeast, Anna enjoys cooking up her favorite Cajun-style dishes and taking long runs through the leafy streets near her Candler Park/Lake Claire home. She also makes time to hike, ski and otherwise hang outdoors with her most beloved people: her two boys, her husband and her closest friends. And if she gets some time to herself on a perfect Atlanta day? "There's nothing better than a shared cup of coffee. tennis workout and a glass of wine—in that order."